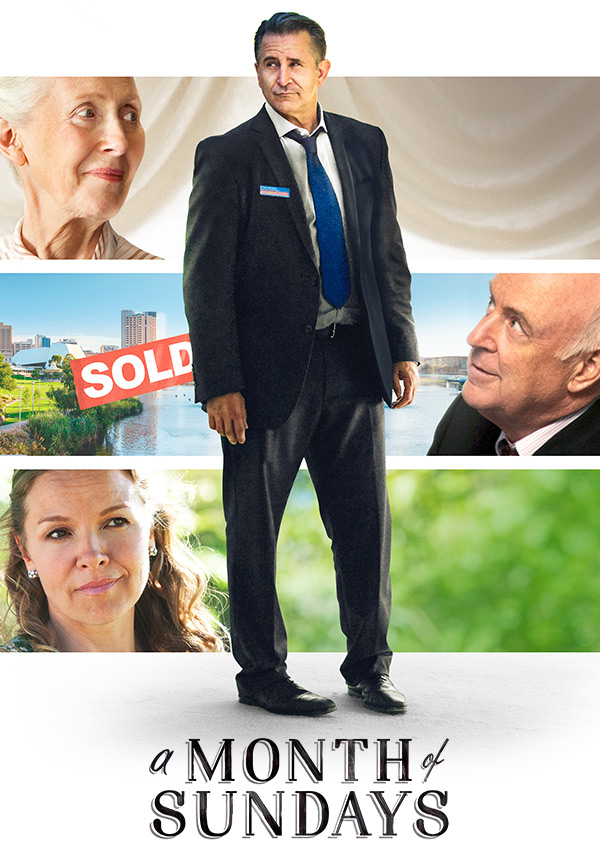 Everyone deserves a second chance... even a real estate agent.
Real estate agent Frank Mollard won't admit it, but he can't move on. Divorced but still attached, he can't sell a house in a property boom - much less connect with his teenage son. One night Frank gets a phone call from his mother. Nothing out of the ordinary. Apart from the fact that she died a year ago.
A MONTH OF SUNDAYS is about parents, children, regrets, mourning, moments of joy, houses, homes, love, work, television, Shakespeare and and jazz fusion: about ordinary people and improbable salvation.
Because everyone deserves a second chance.
Even a real estate agent.
Mild themes and coarse language | Runtime: 109mins
Other Films You Might Like
Join our mailing list to keep up to date with the latest films from Madman.
© 1996-2023 Madman Entertainment Pty. Ltd. All rights reserved. Level 2, 289 Wellington Parade South, East Melbourne, Victoria, Australia 3002. Ph. (61-3) 9261 9200.
Madman acknowledges the Traditional Owners, the Wurundjeri and Boon Wurrung people of the Kulin Nation, on whose land we meet, share and work. We pay our respects to Elders past and present and extend our respect to Aboriginal and Torres Strait Islander peoples from all nations of this land. Aboriginal and Torres Strait Islander people should be aware that this website may contain images or names of people who have since passed away.
Want more Madman?
Subscribe today and keep up to date with all the latest news from Madman Entertainment.