"An instant classic"
FHM Magazine
"A remarkable film"
David Stratton, The Movie Show
"A sign that Australian cinema can reach the monstrous heights of glory"
The Curb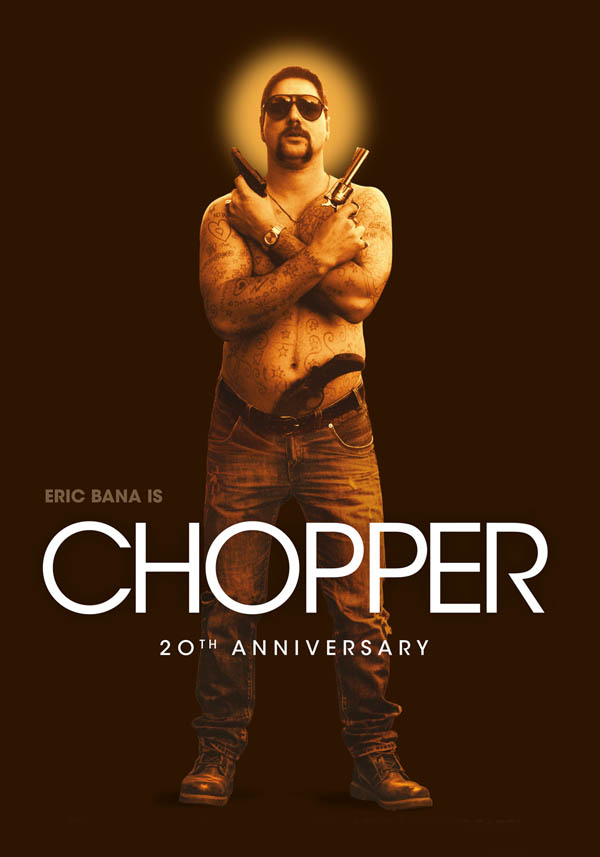 It's time to get reacquainted with Uncle Chop Chop
The critically acclaimed and multi-award-winning Australian cinema classic CHOPPER celebrates its 20th anniversary. Digitally remastered from the original 35mm print with 5.1 surround DTS-HD Master Audio soundtrack; Chopper is available on Blu-ray for the first time.
Chopper tells the story of the late Mark Brandon "Chopper" Read. Real-life convict, bestselling author, and self-proclaimed "national icon".
Written and directed by Andrew Dominik, in his feature directorial debut, Chopper stars Eric Bana as the title character – recommended for the role by Chopper himself – and co-stars Vince Colosimo, Simon Lyndon, Kate Beahan, and David Field.
Special features include - a weekend with Chopper - Eric Bana meets Chopper Read, deleted scenes, the original theatrical trailer, and audio commentaries from both director Andrew Dominik and Mark Brandon 'Chopper' Read himself.
High impact themes and violence | Runtime: 94mins
Other Films You Might Like
Join our mailing list to keep up to date with the latest films from Madman.
© 1996-2023 Madman Entertainment Pty. Ltd. All rights reserved. Level 2, 289 Wellington Parade South, East Melbourne, Victoria, Australia 3002. Ph. (61-3) 9261 9200.
Madman acknowledges the Traditional Owners, the Wurundjeri and Boon Wurrung people of the Kulin Nation, on whose land we meet, share and work. We pay our respects to Elders past and present and extend our respect to Aboriginal and Torres Strait Islander peoples from all nations of this land. Aboriginal and Torres Strait Islander people should be aware that this website may contain images or names of people who have since passed away.
Want more Madman?
Subscribe today and keep up to date with all the latest news from Madman Entertainment.